A Patriotic Education Lecture on the Theme of '70th Anniversary National Day Military Parade'
2019-10-29 444
  A patriotic education lecture on the theme of '70th Anniversary National Day Military Parade' took place in the grand auditorium of Xuhui Campus on October 28th. The lecture was hosted by Yuming Sun, Secretary of Party General Branch of SIT - School of Continuing Education and Secretary of Party Branch of SIT - Telfort, and given by Jianmin Li, Director of the Department of Information Technology of the Cadre University Shanghai and Director of the Department of Aesthetic Education of the School of Continuing Education of SIT. Dean Shuhui Chen attended the lecture, as well as most of the students of Telfort and all the class teachers and counselors.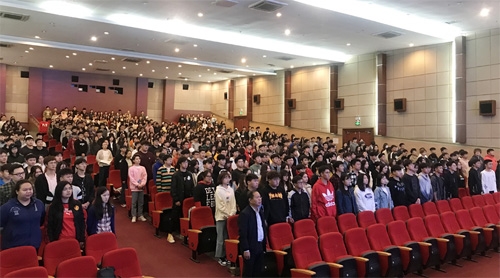 Mr. Li introduced the meaning, ten elements and procedures of the military parade in a very clear and simple way while playing the video of the 70th anniversary National Day military parade. The students present were enthusiastic about the military parade. When the big screen was showing the flag-raising ceremony before the parade, the audience stood up and sang the national anthem.
  The National Day military parade shows to the world the powerful armed force of China, which greatly encouraged Chinese people to work harder to realize the Chinese dream and effectively deter foreign hostile forces. Such a lively and inspiring lecture offered a good patriotism education for the students, which evoked the students' national pride and patriotic enthusiasm.
  At the first meeting of the 12th National People's Congress, Chairman Xi Jinping pointed out that "The realization of the Chinese dream must carry forward the Chinese spirit, which stands for the national spirit with patriotism as the core and the spirit of the times with reform and innovation as the core." This patriotic education lecture was part of the important practical contents of Telfort's political and ideological education for students.