Telfort Graduate Sharing Session and Study-abroad Guidance Seminar was Held
2020-11-05 619
On November 5th, Han Tianwei, a graduate of Telfort, was invited to give a sharing session on career planning. After the sharing session, Ms. Wu Jingshi from the Overseas Study Affairs Department of Telfort Education Group gave the students a guide to study abroad.
Han Tianwei was an outstanding graduate of Telfort in 2013. He studied Finance and Investment Management at Northumbria University in the UK through International Business Program. After obtaining a bachelor's degree, he continued to study in MSc Risk Management at Royal Holloway, University of London, and returned to China after graduating in 2016. He joined one of the World's Top 500 Companies -- Citibank as a VIP wealth manager. Later, he joined Ping An Bank, which is also among the Top 500, as a comprehensive development business manager. He has now settled in Shanghai.
With his own study and work experience, Han Tianwei's speech focused on the importance of unifying academic goals and employment planning. He encouraged the younger students to make career plans as early as possible, so that their studies can become more purposeful, and they can complete and achieve their career goals step by step. Every improvement in academic qualification and every professional experience will enrich one's life and become the cornerstone of experience in the next stage of work.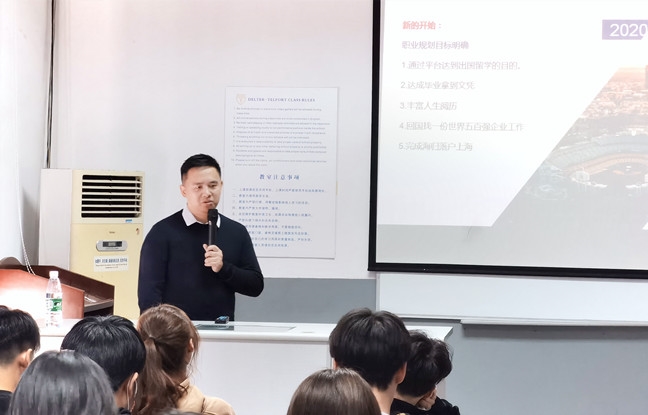 In the past nine years Ms. Wu Jingshi has been responsible for the affairs of Telfort's overseas partner universities and helps students in study-abroad applications. In the lecture, she analyzed and guided students on the reasons, ways and procedures of studying abroad. In particular, she explained and reminded the various misunderstandings that prospective international students might have in the process of applying for overseas universities. The lecture was very informative, and answered various questions about studying abroad that may be of interest to students.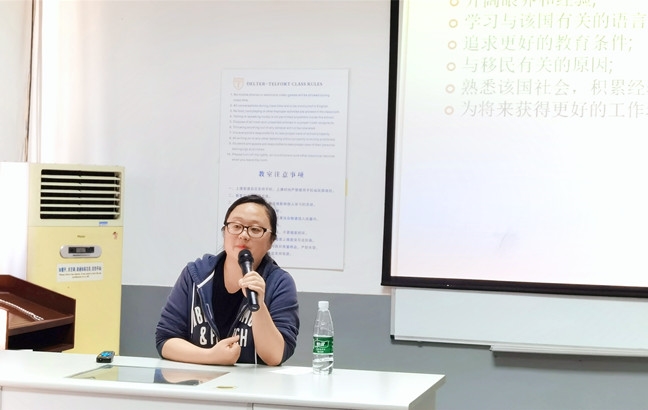 This sharing session and lecture on studying abroad aroused extensive discussion among Telfort students. The face-to-face contacts and exchanges between current students and outstanding graduates and teachers turned out to be very beneficial, especially for those who are ready to go overseas, not only improved their understanding of the future life but also boosted their self-confidence.